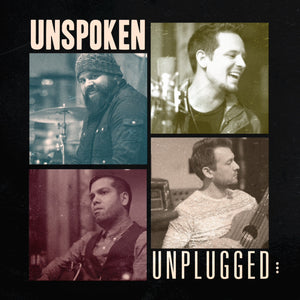 Unplugged
The exclusive Unspoken "Unplugged" CD is Available Now! "Unplugged" features all new recordings including re-imagined versions of "Start a Fire" and "Call It Grace" and fan favorites "Broken Man" and "Tell Somebody." 
A note from Unspoken:
This Unplugged project was a very gratifying record for us to create. Putting new faces on some familiar songs and recording a few of those 'gems' that didn't quite find a spot on our previous records. Stripping songs back to their organic state is something we have always loved and recording together in one big room couldn't have been more spiritual, intimate and flat out fun! Enjoy! 
Track List: 
Broken Man
Start a Fire
Tell Somebody
Call It Grace
Who You Are
Green Light
Good Fight
Lift My Life Up
Born With A Broken Heart
Solid Rock