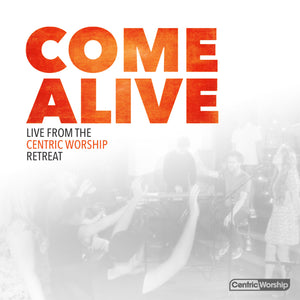 COME ALIVE: Live from the CentricWorship Retreat
Released November 10, 2014
Tracklist
Greater Is He featuring Jonathan Lee
Consume Us featuring Corey Voss
Come Alive (Dry Bones) featuring Lauren Daigle
Come Lord Jesus featuring Henry Seeley
You Have My Surrender featuring Lauren Daigle
More And More featuring BJ Putnam
Worthy Is The Lamb featuring Corey Voss
Features Co-Writes With Jared Anderson, Israel Houghton, Dustin Smith, Mia Fieldes, Lauren Daigle, Seth Mosley and more
Including songs recorded at both the first and second CentricWorship retreats, the EP marks the second release from the newly formed imprint of Centricity Publishing. The weeklong songwriting and worship retreats in the fall and summer provided a highly inspirational and creative setting for seasoned songwriters/worship leaders to craft new songs of worship.
"Our mission is to resource the Body of Christ with a continuous flow of fresh and powerful songs that inspire worship," says Wisdom Moon, Resource & Engagement Manager for CentricWorship. "The retreats truly do provide an opportunity for songwriters to break away from the daily grind, press into the Lord and write from an honest place of worship."
The writers invited to the CentricWorship retreats form an impressive band of troubadours, having written songs recorded by some of today's most recognized Christian artists and songs regularly used by thousands of churches around the world. "The creative talent that the Lord has given these songwriters is tremendous," says Steve Rice, VP of Centricity Publishing and founder of CentricWorship. "It continues to amaze me that they can begin the day with prayer and an instrument, and by dinner we are all singing an extraordinary song that didn't exist only a few hours earlier. And very possibly a song that will travel to church congregations around the world! It blows me away that we can somehow be involved in that part of the Lord's work."
Rice, who founded CentricWorship as a label imprint for Centricity Publishing this year, taps into a unique songwriting model that takes the writer out of the Nashville-standard writing room and places them in a collaborative environment where worship comes first, and writing second. Between the two retreats held thus far, one in the mountains of the Western U.S. and the other in the rural Southeast, more than 50 songs were written and 25 recorded with some of today's top studio and touring musicians.
This collection of songs follows CentricWorship's rootsy first offering, All The Saints: Live from the CentricWorship Retreat, No. 1, which featured some of the same writers, and the same producer, Michael Farren (Pocket Full of Rocks, writer of the popular worship song, "Let It Rain" and the title track "Come Alive (Dry Bones)").
COME ALIVE EP features worship leaders BJ Putnam, Lauren Daigle, Henry Seeley (Planet Shakers), Jonathan Lee, and Corey Voss, and contains songs written by some of The Church's best composers including, Jared Anderson (Desperation Band, writer of "Great I Am"), Mia Fieldes (recorded by Hillsong, Matt Maher, Kari Jobe, Paul Baloche), Israel Houghton (writer of "Friend of God"), Dustin Smith (writer of "Rushing Waters"), Seth Mosley (recorded by Michael W. Smith, MercyMe, Jeremy Camp, Newsboys, Francesca Battistelli), and others.